First, I'm very much a "very occasional" gamer so I'm usually not the target audience for most gaming related accessories and parts. I did however want to rebuild my rather large grey box Linux/Windows workstation into something more compact with a watercooler for the CPU. The NZXT H1 seemed at that point to be a really good match for my requirements and had received good reviews. One was duly ordered, together with a Mini-ITX motherboard and somehow, a better graphics card also snuck on the shopping list. Putting the "new" machine together, mostly from the parts that made up the previous workstation was a bit more fiddly than usual due to the compact case, but not a big issue other than my eyes getting older and my fingers a little more clumsy with time. But nothing that I would consider an issue given how many PCs I put together over the years. I hadn't had the machine up and running for a month when the first articles on the issues with the NZXT H1 surfaced in various mainstream publications. For some reason I wasn't that impressed with the possibility of the computer catching fire, but I initially sat on my hands until Gamers Nexus found out that the nylon screw "fix" was more of a band aid.
Ordering the repair kit
At this point I decided that maybe it was time to order the repair kit, so I duly created a support account with NZXT so I could create a ticket. That was the first hurdle - for some reason I was able to create the account, but have been unable to log into their Zendesk instance and/or reset my password there. Either way, I've been able to update the ticket and get responses via email, which works for me. After a little oversight on my end that required me to re-open the ticket, I received an update around mid-February that the repair screw kit was available and would shipped out to me shortly, followed by the PCIe riser cable kit when it became available. Another announcement that the repair kit was about to be shipped showed up a month later, and when I hadn't received the repair kit by the last week of March, I reached out again and finally received it at the end of the first week of April 2021.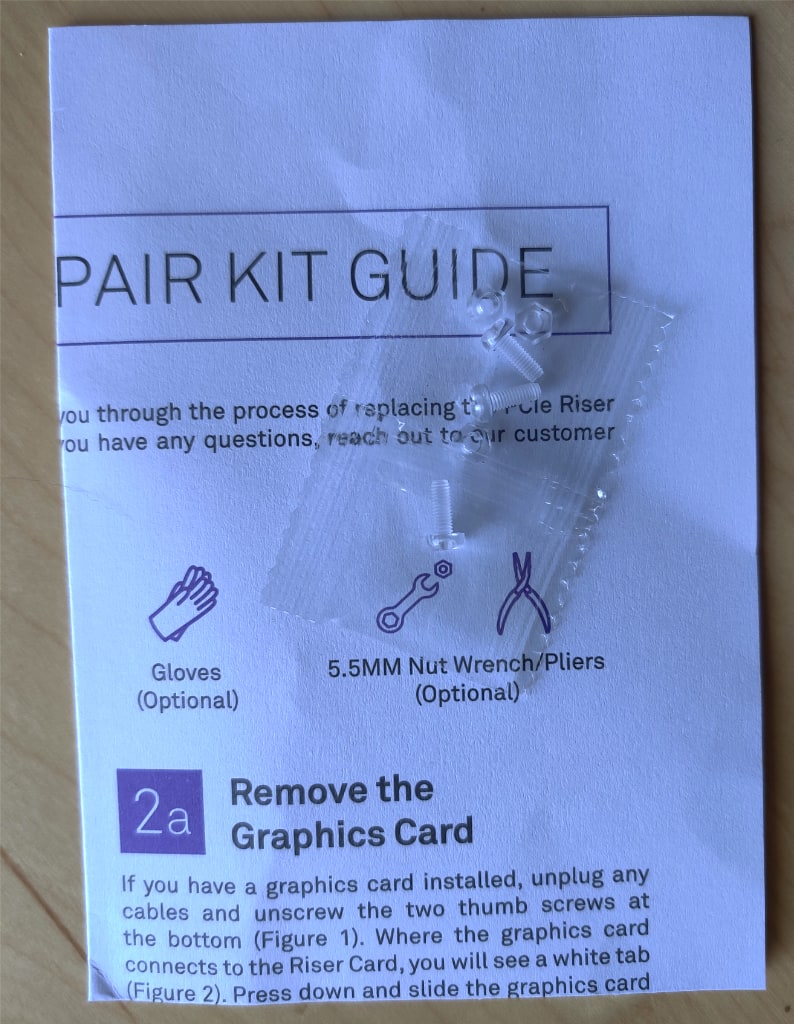 I was a little disappointed that the repair kit at this point still only consisted of the nylon screws, so I reached out to NZXT asking for an updated ETA for the PCIe riser. Unfortunately the only information I could get from them was "we're sending them out as they come in".
Installing the repair kit
Installation was straight forward, albeit a tad fiddly. I noticed that not only were the original screws for the riser a little too big - they clearly had dug into the material of the PCB, which you can see in a couple of photos - they were also screwed into the case at a slight angle. Have a look at the following photos: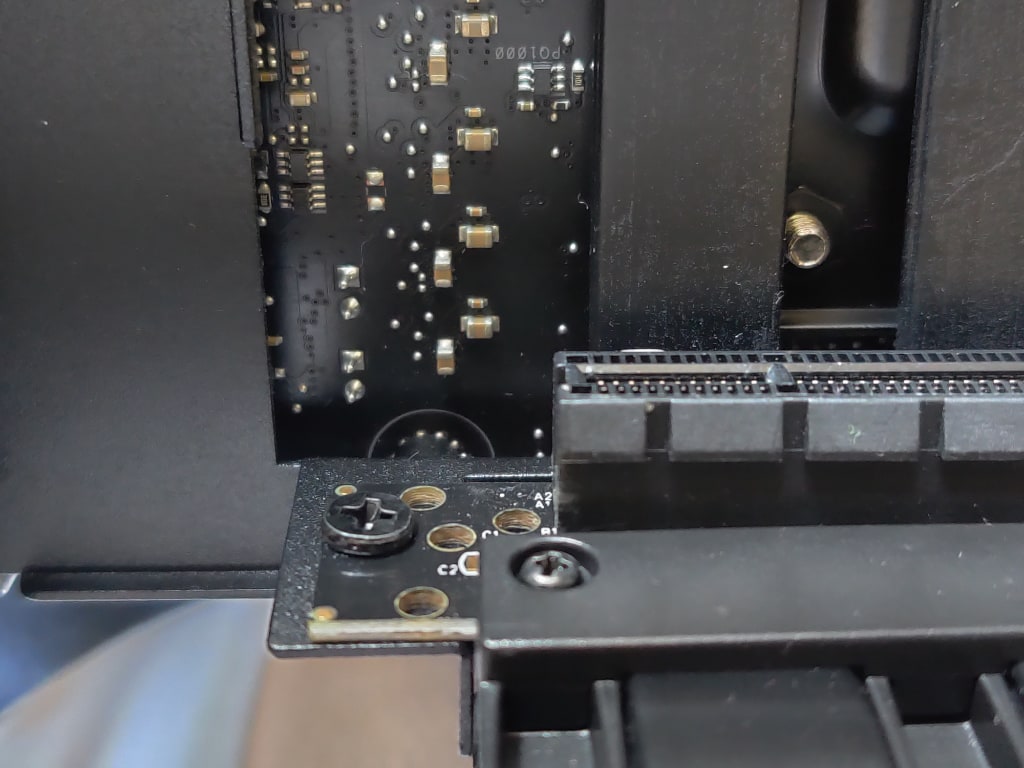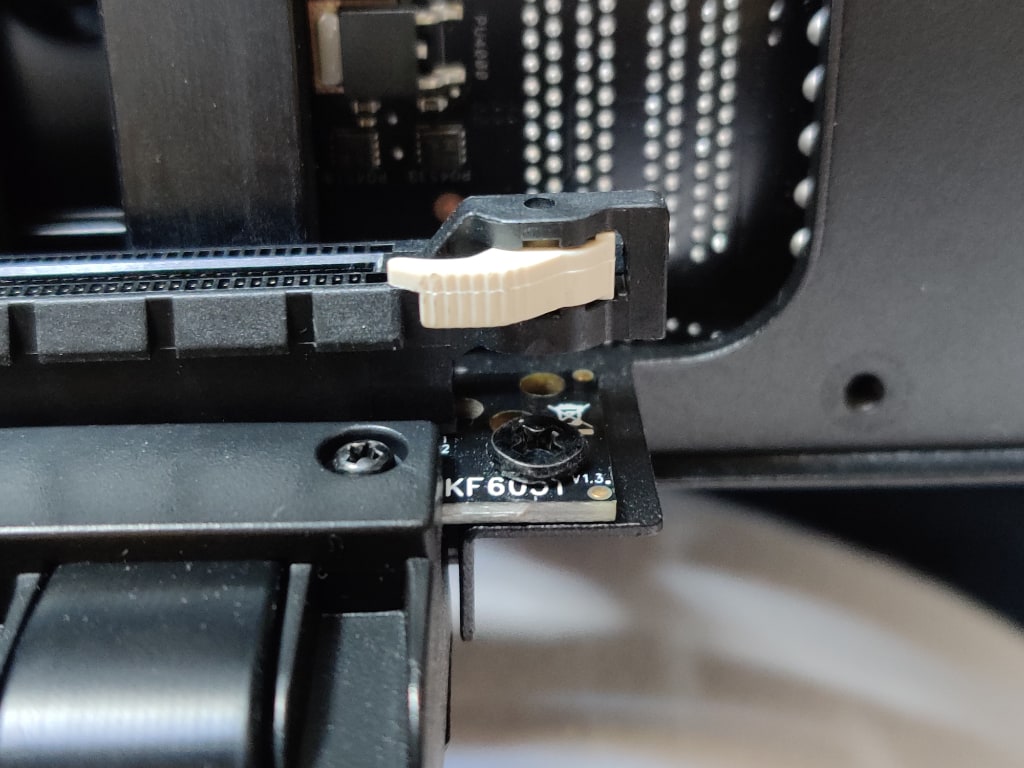 Not a huge angle, but enough of an angle to be visible to the naked eye. As you can see, the PCB for the riser is showing marks from the screw I just removed: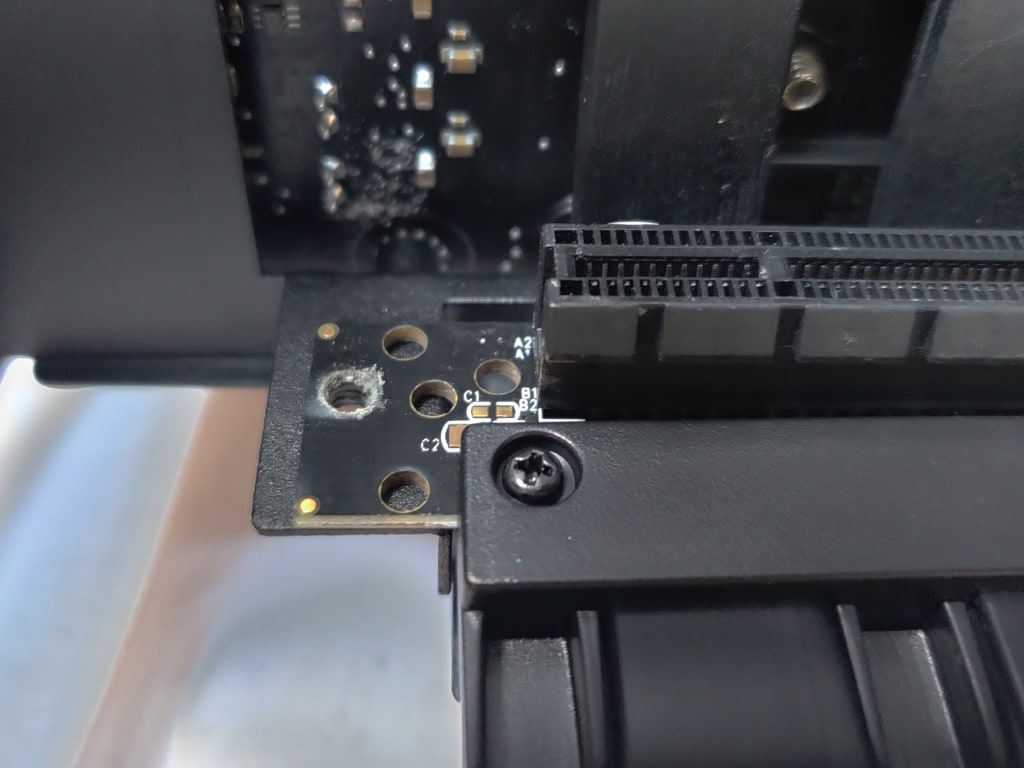 The nylon screws went in easy and actually pulled the riser board towards the slot cover mounts ever so slightly as they went in at the proper 90 degree angle to the metal support.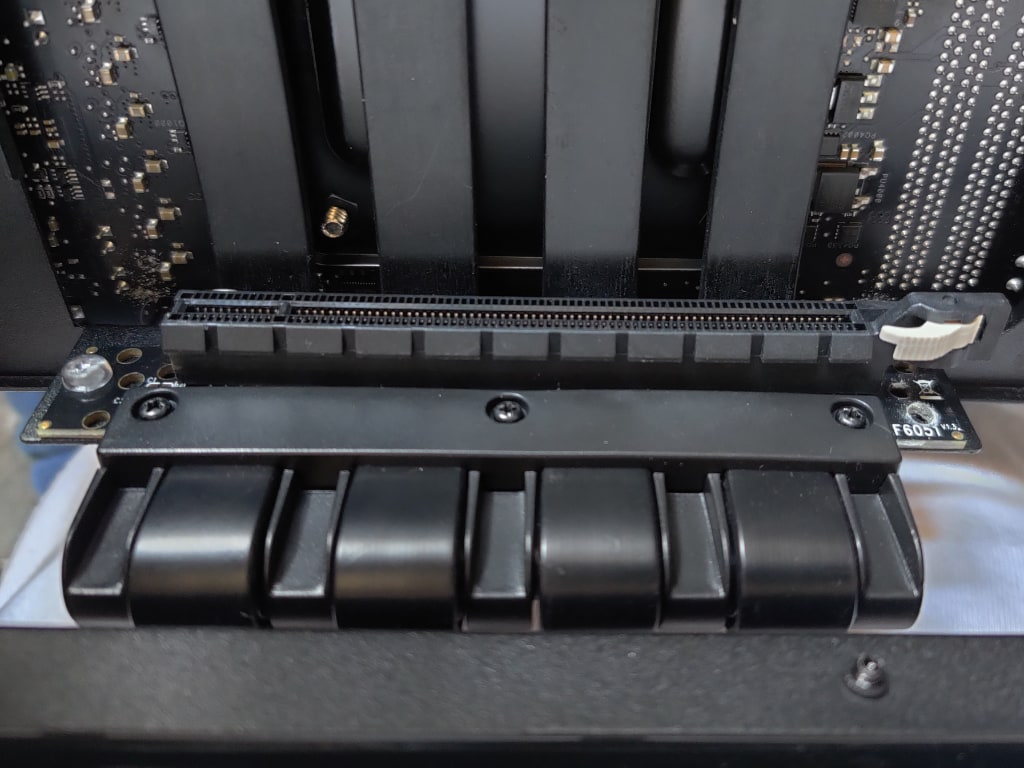 After this modification the computer should hopefully be safe to use again so I don't have to do the majority of my work on my old (2009), regularly upgraded Mac Pro. Don't get me wrong, the Mac Pro is still working fine but it's a bit of a relief to have this more powerful workstation back in action.
What did I/do I think of the recall experience
First, I would like to point out that all my interactions with NZXT's support have ben unfailingly polite, pleasant and professional. The current pandemic and the well publicised shipping issues also don't necessarily help. But even taking all of these factors into account, I'm not particularly impressed with the way this issue has been handled. It took almost two months from me originally opening the support ticket to receiving the first set of parts, after a couple of follow ups and having to provide my personal details twice. The Zendesk registration is already asking for my phone number and address, but I had to provide it again when requesting the parts. During the whole time, communications were not that great - I would receive updates to the ticket (good!) but they weren't necessarily followed by the promised actions. Not to mention that the updates weren't always timely - the ticket was updated with the tracking number for the repair kit several days after I had received the kit.
I was very close to writing off this case and simply ordering another case - most likely a Sliger Cerberus - event though this would have meant that I needed to not only buy another case, I would have had to purchase another AIO cooler and possibly another PSU. Depending on how long it takes to receive the updated PCIe riser for the NZXT H1, I might still do that despite the additional expense.
I also need to point out that while this PC is my main personal Linux/Windows workstation, I'm in the fortunate position to own more computers than any sane human probably should. For that reason I was able to just leave this computer untouched for over a month without major impact. If this was a machine I actually needed to make a living I pretty much would have had to rebuild it into a different case very quickly.
While none of this is the end of the world and nothing caught fire, I'm still disappointed. This is not a cheap case, although I think it is good value because of all of the extras that come with it like the PSU and the AIO cooler. Either way, addressing this problem could have been handled better.